---
Joe De Sena carries a 44-pound kettlebell with him everywhere he goes. Sounds a little unconventional, to say the least, but if you knew Joe De Sena, you would understand that unconventional is a word that describes him pretty well.
Before Joe founded the Spartan Race and the Death Race, he sold fireworks and made t-shirts. He worked on Wall Street as a trader and also started a pool cleaning business, and not in that order.
Along the way, he completed multiple IronMan races and the Iditarod on foot. This is only some of the experience that makes Joe De Sena an unconventional force with an incredible and inspiring story. Lugging around a 44-pound kettlebell is starting to make a little more sense now.
Serial Founder
When Joe was young, growing up in Queens, he decided to start a small venture selling fireworks. He was eight years old. Later, young Joe decided to enter into the T-shirt industry while in high school, creating and selling shirts for other kids.
After that, the pool cleaning business seemed like something he wanted to tackle, building a legitimate company, and selling it for a profit.
Without a pool cleaning business to run, Joe entered Wall Street as an equity and derivatives trader. His job on Wall Street taught him about money but left him feeling like he needed to step his game up.
Joe gained weight working every day at an office. He started to figure out ways to exercise and quickly found himself entering into endurance races.
Hooked on Endurance Events
At one point, Joe completed 14 Ironman races and over 50 ultra events in a single year. He started to realize he could help other people through physical challenges.
In a recent interview, he remarked, "I realized that the same mindset applied to overcoming physical obstacles in an obstacle race could also be applied to overcoming obstacles in life. The power of the mind is a huge factor in enabling this, but it needs to be taught and trained."
Joe and a few friends created Peak Races, which later turned into the Death Race and the Spartan Race. The races are considered the ultimate test of endurance, willpower, and determination.
Obstacles such as barbed wire crawl, wall climbs, rope climbs, and fire jumps fill the racecourse. Some of the races are so difficult that only a small percentage of the participants actually complete the race.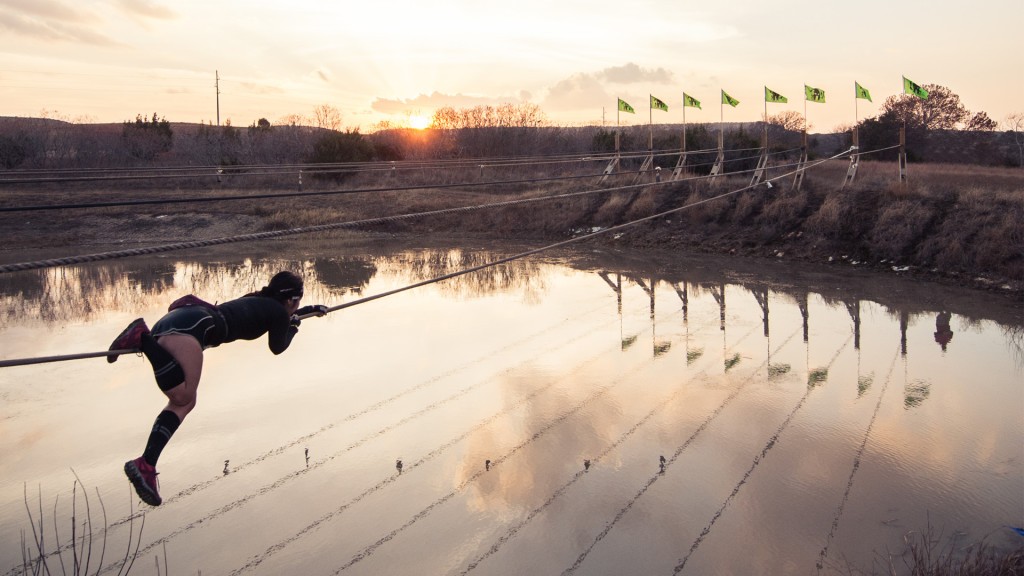 Leo the Kettlebell
Now you have a better idea of why you might see a guy lugging a 44-pound kettlebell through the airport. And of course, there's a great story to go along with it.
The kettlebell has a name; he calls it Leo. It goes everywhere with Joe. The reason he carries it starts with a nearly 700-pound man arriving at Joe's farm in Vermont, desperate for help losing weight.
Joe decided to give the man a 25-pound sandbag to carry along hikes every morning, and in return, Joe would also carry a sandbag. In addition to that, as the man lost weight, the amount Joe carried would increase.
Each day the man lost a few pounds. Eventually, he would weigh only 270 pounds.
This also increased the amount of weight Joe had to carry. Now he was up to carrying around an 85-pound sandbag with him wherever he went.
Along his journeys through airports and traveling around the world, Joe's sandbag was confiscated. Needing a replacement weight, Joe requested his wife order a 20-pound kettlebell. It seemed a little more reasonable and much more manageable when on the go.
When his wife mistakenly ordered a 20-kilogram kettlebell rather than a 20 pounder, he decided to keep the 44-pound kettlebell anyway.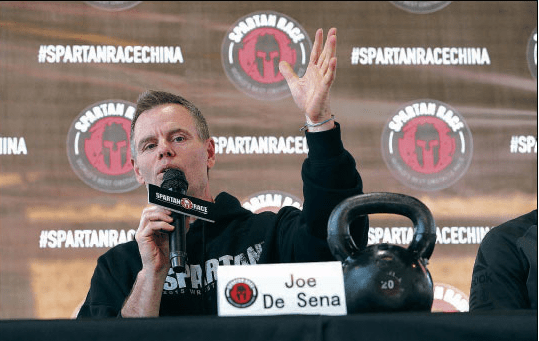 Joe has become known as "Spartan Joe" or "the guy with the kettlebell." He's also known as a best-selling author and an all-around motivating, inspirational guy.
One of his messages is to challenge people to push themselves mentally and physically. He talks about how dealing with discomfort and pain results in happiness. He was recently quoted in an interview saying,
"The majority of people want to make their lives softer and easier. But I don't think we're meant to sit around in a climate-controlled house. The worse the weather is, the more we should go out into it. We're designed to deal with challenges and obstacles. We are supposed to get chased by a lion and hunt for deer. We're wired for that. Now we just get the frustration of traffic, or the coffee not being the right temperature, or the kids screaming."
Joe De Sena has a simple message, but not many people get to experience it these days. He goes on to explain he believes happiness comes from reduction. The fact that when you feel loss, or pain, or hunger, it can reset the mind toward gratitude.
Bending your brain toward appreciation when that meal finally comes, or a warm blanket or a soft bed. Along with the ensuing gratitude and happiness.
Joe De Sena hosts his own podcast called Spartan Up! where he hosts interesting guests and fascinating discussions. Be sure to check it out.
---